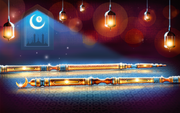 The Ramadan Cue (also known as the "Light Cue" across mobile devices) is a cue in 8 Ball Pool which is obtainable at level 1, costs 25 pool cash to purchase and 100 pool coins to recharge.


Description
The Ramadan cue is a cue bathed in gold, azure and bronze. Atop the cue is a golden-tinted moon. The cue specializes in aim and comes with an additional chatline reading "Ramadan Mubarak!".
This article is part of a series
about


Cues

---

Wikipool help articles

---

This article is part of Wikipool's cue project, where we aim to provide you with the best source of information about the topic on the internet.