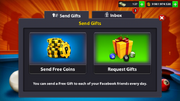 Gifting is one of the many functions of 8 Ball Pool. It is only available for players using Facebook and the mobile version; players who use the function send money - that doesn't come out of their own pocket - to friends, and players can receive gifts, too. The amount of money sent is generated randomly, and does not impact the amount of money a player has whatsoever, making it a friendly function, optimised for players who have many friends on the game. It was initially released to the mobile version midway through March of 2015, but a version for Facebook has since been released. Players can receive more than one gift per day. In addition, the function is entirely free, with no in-app purchases to boost funds, etc.[1]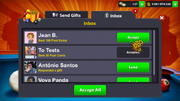 Gifting others is simple: there is a gifting button in the far left of the screen, and clicking it will give the player two options - 'Request Gifts' and 'Send Free Coins'. You can send coins to however many of your friends, with no additional fee. The "Inbox" tab allows you to collect your received gifts, and the player will be notified whenever they have been presented with a gift, listing the person who sent it and the amount of money gifted.[1]
The only current web version is the Facebook version. Going to http://8ballpool.com will only present you with an eternally-looping icon.
References