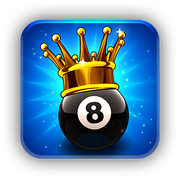 The 8 Ball Pool Forum Cup is a pair of 32-person knock-out tournaments, with one for the PC version and one for the mobile version; each cup is in a single-player elimination format.[1][2] The cup is aimed at players with great skill and good knowledge of the game itself, and there is plans for the tournament to be hosted a number of times a year, according to the creator of the tournament. The creator has also stated that he may consider doubling the size of the tournament, upping it to 64 entrants, which he would later go on to do in a next blog post.[2][3] The original post about the cup was on August 10, 2015, and the post on Miniclip's official blog was posted four days later. Despite the tournament places being taken, Ben M of Miniclip has stated that they will "have a waiting list in case anyone can't compete."[1] The first tournament started on August 17th, 2015.[2] The tournament is hosted by CrunchKing, a Staff Member of Miniclip and Moderator on the 8 Ball Pool Forum.
Download an Android version from here.
Prizes
As the tournament is official, prizes are essential. Here is a list in order of the places:[1][2]
Entry requirements
There is some information that is needed in order for someone to be entered in the tournament, including:[2]
Your forum username
Your in-game username
Your in-game profile ID number
Which platform you play on, PC or mobile - only one can be chosen
Tournament weeks
Tournament number 1
| Week | Date | Round |
| --- | --- | --- |
| Week 1 | Mon 17 Aug - Sun 23 Aug | PC ROUND ONE / MOBILE ROUND ONE |
| Week 2 | Mon 24 Aug - Sun 30 Aug | PC ROUND TWO / MOBILE ROUND TWO |
| Week 3 | Mon 31 Aug - Sun 6 Sep | PC ROUND THREE / MOBILE QUARTER-FINALS |
| Week 4 | Mon 7 Sep - Sun 13 Sep | PC QUARTER-FINALS / MOBILE SEMI-FINALS |
| Week 5 | Mon 14 Sep - Sun 20 Sep | PC SEMI-FINALS / MOBILE FINAL |
| Week 6 | Mon 21 Sep - Sun 27 Sep | PC FINAL |
Final results
The mobile winners were Palak Chaudhary, Michael Huang and Hatty Ahuja, in that order.
The PC winners are TBA.
Notes and citations