The 8 Ball Pool Forum (often shortened to the Pool Forum) is the official Forum of Miniclip's billiard sport simulation game, 8 Ball Pool. The Forum is most commonly used to communicate with other 8 Ball Pool players, but is also used to host events such as the 8 Ball Pool Forum Cup. All players of the game can join the Forum as well as post comments and messages.
The Forum is bound by its own set of rules, the "Forum Rules", which show users how to use the Forum, as well as detail what exactly is acceptable behaviour on the Forum. The rules are posted in the Forum Rules board, which is composed of the FAQ (Frequently Asked Questions) as well as the main rules.
Main features/aspects
Profile: the Profile is the page of a user, which displays their messages (as well as messages sent to them), a link button to their Preferences, a description about themselves, a link to their Activity, Discussions and Comments, as well as general details, including their join date, amount of visits, last time active, roles and posts.
Search: the Search box allows a user to search for a thread or post.
Who's Online: the Who's Online box contains a list of online users' profile pictures, as well as text reading the amount of guests (users who are not logged in).
Bookmarks: users can bookmark threads by clicking on the star in the top right-hand corner of each post. There is another star icon that, when clicked, will list the user's bookmarked threads, including the profile picture of the person who posted the bookmarked thread, etc.
Child categories: as users must be 13 years of age or older to participate in Forum activity, there are child categories, categories in which children may post comments and discussions on, so that the forum is not entirely restricted to over 13 year olds.
Usage
Overview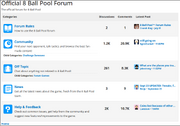 The 8 Ball Pool Forum is rather large, as some boards can reach up to 10,000 comments, 40,000 views and over 1,000 discussions.[1][2] This list provides information about the five board categories on the Forum:
Discussions
An unlimited number of Discussions can be made within each board category (except for the locked board categories and board categories that only Staff can exclusively post on). A new Discussion can be made by clicking the New Discussion button on each board category.
Posts/replies/comments
A post/reply can be made by scrolling to the bottom of a thread and writing comments; an unlimited amount of comments can be created on each thread, but spam posts and replies are deleted. Discussions are posted by clicking the Post Comment button.
It is also possible for users to save drafts of their comments and edit them later, as well as preview their post; previewing posts will give a final look at the post/reply, implementing all code.
BBCode is the markup language used in comments, instead of the common HTML. A brief notice can be seen below the text box for each comment.
All recent comments are logged under this page.
Quoting messages
Messages can be quoted by clicking the Quote button. After posting a message with a quotation in it, the quotation will appear in a big grey box, and at the top of the box is a message reading "__USERNAME__ wrote:".
Moderator/admin posts
Moderator posts are marked in light yellow.
Administrator posts are marked in light green.
External links
Notes and citations